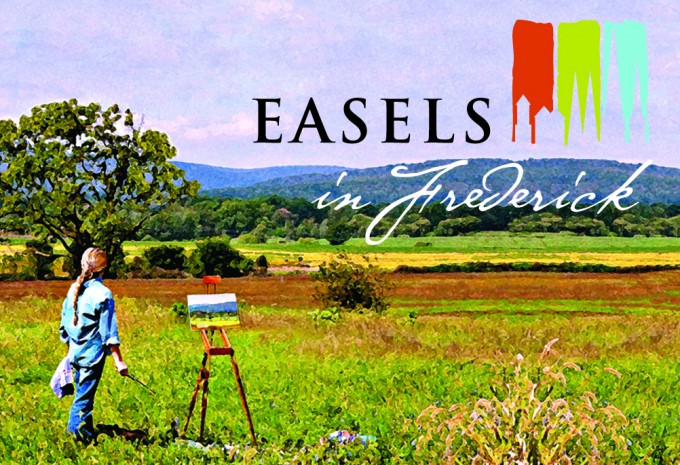 What's Happening In Frederick This Weekend! June 21-22, 2003
The beauty of Frederick County will be celebrated and captured on canvas when some 100 local, regional and national artists participate in "Easels In Frederick" this week.
Beginning on Tuesday, 30 national juried artists, traveling from the Great Plains, the Deep South, and New England will descend upon Frederick to paint the county's towns and landscapes. On Friday at noon, the artists will turn in four of their paintings (two to be judged for competition) that will be displayed, judged and sold on Friday evening and Saturday afternoon at the Grand Exhibition at the Wm. Talley Recreation Center at the edge of Baker Park. The exhibit, featuring more than 100 new and original paintings can first be seen at the Private Collector's Preview, Friday, June 21, from 7-9:30 p.m., a $50 ticketed event with wine and canapés. The $50 ticket price can be applied to the purchase of any one Exhibition painting. The exhibit will re-open to the public free of charge on Saturday from 1-6 p.m.
Ready, set, Van Gogh very well might be the battle cry heard in downtown Frederick on the morning of Saturday, June 22 when some 70+ artists paint against the clock in a Quick Draw contest, vying for prizes. The event will take place from 9:30-11:30 a.m. on specified blocks of N. Market, E. Patrick, and N. East streets and is open to artists of all skill levels age 16+. Cash prizes totaling $1,500 will be awarded. Equally cool, the artists will have the ability to sell their paintings to spectators, turning downtown Frederick into a flash art market. Artists must register by Thursday, June 20 at 9pm online ($15). To register, buy tickets to the Private Collector's Preview, or learn more in general, go to: www.easelsinfrederick.org
If you want to learn about the historic events that transpired within the downtown historic buildings that the Quick Draw artists will be painting this Saturday, take the Frederick Walking Tour, the mobile app for smart phones and tablets… and also now available in DVD format at local stores. Have a great time at "Easels in Frederick."